Merry Christmas!

My favorite Christian author, speaker, and poet is Michael Card. His ministry has spanned three decades of my walk with Christ. His words resonate with me.
Today I give you an excerpt from his book, Immanuel: Reflections on the Life of Christ.
The name Immanuel literally means God with Us, and I pray that today you have Immanuel!
  Christmas is a struggle for my wife and me. Our ongoing war with the world seems to intensify as the decorations go up all over town. There is His name in every window. Sometimes there is even a statue of His sweet infant body, lying in some straw with shepherds and wise men standing around with blank porcelain expressions (I've always thought their faces convey the attitude of the world toward Christmas; blank, dazed and bewildered.) If people today would just look and the birth of Jesus "straight on," they would be puzzled that we should celebrate such a horrific birth of a baby who was born to die. The contradictions should be more than the world can take. If Christianity could just be seen for what it is–a paradox and a mystery. The beginning in that dirty stable is one of the greatest mysteries: the plainness and greatness of Jesus, the grime and the glory. Wise men with gold in their hands and shepherds with sheep dung on their shoes. A smelly stable below and a shining star above. The birth of a gentle Lamb who was the fiercest Lion.
I hope you consider the paradox, delve into the "why," and find an answer. May the Christmas Spirit truly reveal Himself to you and in you this season, and may you walk in blessings this new year!
You can find Michael's books and music at Amazon and information about him on his website.
http://www.amazon.com/Michael-Card/e/B001IXRQXW/ref=sr_tc_2_0?qid=1387893092&sr=1-2-ent
About A Taylor-Made Life
Five years ago while I was pregnant with my youngest child, my husband was diagnosed with Stage IV melanoma cancer. It was a difficult and emotional time in our lives. He's now well and cancer free, but last year when a friend's daughter was diagnosed with cancer, all those emotions came flooding back. A Taylor-Made Life is the result of those emotions. It's a special story looking for a home in the hearts of readers. I pray you give the characters an opportunity to touch you.
 What reviewers are saying:
"A Taylor-Made Life is one of the best books I've read this year and it's not one I'll soon forget… Taylor and Gavin stole my heart and my breath, and I wasn't ready to let them go." – Nikki Barrett, Storm Goddess Book Reviews
"Beautifully written, and I would dare anyone not to cry….. Gavin and Taylor have such depth and emotion, it's hard not to fall in love with them. These two characters will remain in my memory forever." – Melissa Limoges, Insert Clever Quip Here Book Reviews
"Kary Rader is a wonderful new voice in New Adult fiction. Taylor-Made is a must-read."– Jill Limber, author and editor, Boroughs Publishing Group
"Live the life you're given; love the life you make. Get out your tissue box; A TAYLOR MADE LIFE by Kary Rader will make you laugh, cry, and contemplate your own life and mortality. With a bold female protagonist and a hardened hero, this novel confronts the difficulties of living and dying with cancer." –The Romance Reviews
They lived the life they were given; they loved the life they made.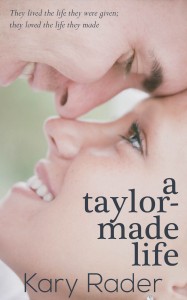 Cheerleader Taylor Smith doesn't want to die a virgin. Unfortunately, if the terminally-ill leukemia patient doesn't find a lover or a stem-cell match within months, her fear will become reality. When her cancer mentor is revealed to be a hottie entrepreneur from California, it seems fate might finally be on her side.
Tech-geek Gavin Taylor has everything he ever wanted, except someone to grieve for him when he's gone. With his melanoma cancer beyond the help of his riches, he agrees to participate in a cancer patient mentoring program where he's matched with a dying teen from Texas. Despite his immediate attraction, the Silicon Valley whiz intends only to provide friendship and happy memories to the beautiful, young woman who is determined to win his love.
When it's discovered that his frozen sperm and her harvested eggs could lead to a cure, Taylor's mother offers to be a surrogate. And Gavin must decide if he can risk the heart he has never given and a child he'll never know to a girl he just met.
Book Sale Links:
Amazon: http://www.amazon.com/dp/B00DU52U5K
Smashwords: https://www.smashwords.com/books/view/334257
Barnes and Noble: http://www.barnesandnoble.com/w/a-taylor-made-life-kary-rader/1116156956?ean=2940044642799
Goodreads: http://www.goodreads.com/book/show/18012643-a-taylor-made-life