TAYLOR-MADE SERIES
WINNER of the 2014 RomCon Reader's Choice Award and 2014 Finalist in the EPIC.ORG eBook Awards
A Taylor-Made Life also placed 2nd overall in the NTRWA Great Expectations Contest and finaled in the VFRWA Sheila Awards.
A Taylor-Made Life, Best-Selling Contemporary Young Adult/New Adult Fiction
They lived the life they were given; they loved the life they made.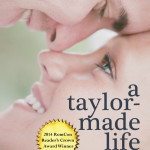 Cheerleader Taylor Smith doesn't want to die a virgin. Unfortunately, if the terminally-ill leukemia patient doesn't find a lover or a stem-cell match within months, her fear will become reality.
Tech-geek Gavin Taylor has everything he ever wanted, except someone to grieve for him when he's gone. With his melanoma cancer beyond the help of his riches, he agrees to participate in a cancer patient mentoring program where he's matched with a dying teen from Texas.
Despite his immediate attraction, the Silicon Valley whiz intends only to provide friendship to the beautiful young woman who is determined to win his love. When he discovers that his frozen sperm and her harvested eggs could lead to a cure, Taylor's mother offers to be a surrogate.
And Gavin must decide if he can risk the heart he has never given and a child he'll never know to a girl he just met.
A Taylor-Made Love, New Adult Fiction — Releasing May 12, 2015
Life comes down to one choice: the love you lose or the love you make
Raising a toddler and attending college, twenty-year-old widow and cancer survivor Taylor Smith-Taylor is also running a billion-dollar business because she's made a vow to keep her late husband's company and his memory alive. When she falls hard for her sexy attorney, it's not just her crazy schedule and the whirlwind romance that has her in turmoil. The pull between promise and passion finds her having to choose between the past she's pledged to keep or the woman she wants to become.
Successful attorney Brad Richards deals in broken promises every day, which is why he doesn't do commitment. As smooth as aged scotch, the thirty-five-year-old playboy makes his living negotiating limits and managing outcomes. What he can't seem to manage are his feelings for his young client, Taylor. From the moment they meet, she's in his head and under his skin.
As their corporate dealings escalate, their on again/off again relationship leaves their priorities more tangled than their bed sheets, and it seems easier to walk away than work it out. When an unexpected disaster topples all of Taylor's well made plans, only a perspective from the grave can help her realize her future comes down to one choice: the love she'll lose or the love she'll make.
The DataMatch Series
OVERVIEW
The executives at SC Endeavors, Inc. have developed a revolutionary new dating compatibility program that they expect to turn the world of online dating on its ear. They believe they can come within a .02 accuracy of compatibility assessment between two people. With that kind of information, finding the perfect person becomes a simple matter of reading the results and choosing the most compatible match. The company's top five are willing to put their careers and hearts on the line by being the first to undergo the matching process.
Unfortunately the process is still in the testing stage. There could be hiccups. Actually there will be hiccups—big ones.
While the romance in each story is stand-alone, the surrounding elements build from one story to the next. The DataMatch Serial is my homage to the soap operas of my youth—Days of Our Lives, General Hospital, Young and the Restless.
Kissing Mr. Scrooge  Book One
KEYNOTE: Maddie Timms's workaholic, type-A boss is forcing her to accompany him on a business trip where she'll miss Christmas at home, but it might just be worth disappointing her family if she can convince the tall, dark, and sexy humbug to embrace the season…and her.
Seducing Dr. Cupid Book Two
KEYNOTE: With geek god Dr. Simon Huxtley as her boss, foxy fangirl Betsy Drake has just landed the job of her dreams. To land the man of her dreams, she'll have to do something she's never done before: seduce the sexy scientist.
Getting Mr. Lucky Book Three (releases March 2015)
KEYNOTE: No-nonsense Lucy Furey is a corporate contract attorney used to tight negotiations, at least on paper, but when her new hotshot partner Lucas Luck wants to negotiate his way into her heart, it leaves her wondering if she's being hoodwinked, or could she really be getting Mr. Lucky?
Killing Casanova Book Four (releases Summer 2015)
KEYNOTE: When Violet Murphy's Boss begs her to convince his dying mother, they're getting married, Violet finds that being trapped in a pretend relationship with the sexy playboy leaves her with two choices: falling in love or killing the handsome Casanova.
Romancing The Dragonlady Book Five (releases Fall 2015)
is about the feared head of HR, Molly Dresden and her new recruiter, Chris Lachey. Halloween Theme
Marrying Mr. Scrooge Book Six (releases Winter 2015)
is the finale that releases next Christmas.
The Reign of Light Series
Queen of Jastain, New Adult Epic Fantasy Romance, Book One
The Light brought her to the hero of Jastain, but now, modern-day Texan Abby Randall must fight an epic battle before she can become his queen.
OUT OF DARKNESS
For twenty years, Avant has faithfully awaited the arrival of the Chosen One, a hero who will fight by his side to restore the missing Crown and drive Darkness from the kingdom of Jastain. But when the Light's champion finally appears, Avant's attraction to her threatens his long-held beliefs, his plan for revenge against the Dark king, and two decades of fidelity to a stolen bride.
INTO LIGHT
Abby Randall can't possibly be Sir Hots-a-lot's "One." Sure, she was mysteriously transported to this medieval land from Dallas, but her only super powers are shopping and party-planning. Yet, destiny will not be denied any more than their forbidden passion. She and Avant must journey to face the very source of evil, and there they will learn that only great love—and even greater sacrifice—will make her his prophesied Queen of Jastain.
The Pirate Princess, New Adult Fantasy Romance, Book Two
For a pirate, nothing is forbidden…except love. To gain her freedom, Charlee must seduce the prince. To save the pirate, Prince Petra must win her heart.
BY HONOR ALONE
A handsome war hero, Prince Petra can have his pick of any lady in the kingdom. A man of virtue, he's saved himself for just the right one. But when the corrupt emperor of Isa Vis kidnaps a duke's daughter to force her into an alliance, Petra sacrifices himself—and his dreams of love—to save her. Betrothing himself to the distant captive, he leads a daring rescue across the stormy South Sea.
But The Light has other plans. On the voyage, Petra runs afoul of Charlee. Once a prisoner, now a pirate captain, the sultry siren holds him captive with more than just her sword. And when she offers a seductive wager—if he takes her body before they reach the City of Light, she wins absolution for her crimes—it is all he can do to hold firm. While he has every reason to bring Charlee to justice, he's also finally found a woman he wants more than honor. And he can no more trust her than he can trust himself.
The Prospective Princess, New Adult Fantasy Romance, Book Three
Giving up the beautiful Lady Brislyn is only the first step toward Commander Marchant saving her from Darkness—and then winning her heart.
A MAN AMONG PRINCES
Five years ago Lady Brislyn of Komissa fell in love. Five years ago her heart was broken, never to be mended. But when one careless act finds her abducted by marauders and forcibly betrothed to an enemy prince whose Gifting is seduction, there's only one man she can count on to free her: Her father's brilliant—and devastatingly handsome—military commander. The very man who rejected her.
Five years ago, Commander Marchant rebuffed the fifteen-year-old daughter of his duke. Now she is a woman grown, a Gifted musician whose song captured his heart. Yet Brislyn is not so easily reclaimed. To save her from one royal suitor, he must make a show of engaging her to another. Then March will rescue the kidnapped lady or die in the perilous journey to reach her. If he can survive the storms, the pirates, and the princes, he will win back Brislyn's heart.