Today we have with us an interesting and dark character from Katie O'Sullivan's new release, Blood of a Mermaid. Please welcome Zan.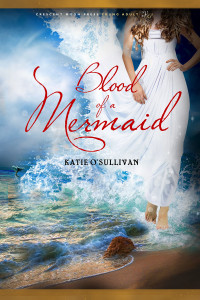 Who are you? Give your full name and title/race. Do you have special abilities?
My full name is Alexander, but most know me as Zan, of the Adluo clan. Some call me an evil sorcerer, a wielder of dark magick, but I disagree. I mean, I learned how to harness my powers at the University of Atlantis, so it's not the magick that's dark. Magick is pure power, to be harnessed and used like any other tool. Some of us just have better access to their inner magick.
What are your goals?
Originally, I was excited to help Prince Demyan overthrow the royal family in the Atlantic. Why should they enjoy all the bounties of that larger ocean while our people starve? Demyan always said the strong should take what they deserve. But after the debacle at the Summer Solstice, my new goal became staying alive and out of prison.
Then I met Kae.
I know I was only supposed to kidnap her, but then I got to know her. She's like all sweetness and light and whatnot, and you'd think it would be too much but no. She's, like, perfect. Yeah, I know she's someone else's girlfriend. But things change all the time, right? My only goal now is to make sure nothing bad happens to her. My life isn't worth living if she's not going to be around, so I'm not going to let anyone hurt her.
What were your conflicts and the obstacles in your story?
Can my obstacle be a who? Because the biggest "obstacle" in my life is Prince Demyan, the Adluo usurper. I know he saved me when I was young, but he keeps collecting on that same debt. It's like I have no free will at all. He controls me – and in turn controls the magick.
At first, I was grateful he saw potential in me and my abilities, taking me under his fin. I don't think I ever made the mistake of thinking he was truly my friend. Come to think of it, I'd never actually had a friend, until I met Kae.
Umm, and did I mention that she already has a boyfriend? He's an obstacle for sure, that stupid half-drylander kid, Shea MacNamara. You know, the heir apparent to the King of the Atlantic. Son of the mermaid princess. Saved the King from the death Demyan and I had planned for him. That guy. How do I compete with that?
What did you think of Shea when you first met him?
Everyone knew the rumors. The stories of the drylander boy who would save the oceans? I never dreamed they were actually true, let alone that Shea would be the boy from the prophesy.
I never even met Shea the first time I was at the Atlantic King's palace. But after everything started going to hell and I swam out of Nantucket Sound, I started hearing tales. How he stood up to Demyan, how he cured the king from certain death…. Yada yada yada. To hear Kae tell it, he was like a god reborn. When I finally met him, I wasn't impressed. He didn't live up to the hype. He's just a guy, not a god.
What is your greatest strength? Greatest weakness? How have they influenced you?
My greatest strength is my magick, but it's also my greatest weakness. Sometimes the magick has a mind of its own. The professors in Atlantis told me I was the strongest magick user in a thousand years. They taught me how to focus my abilities, so I control the magick and not the other way around. But it's tricky. The magick seems tied to my emotions, and when I get angry I sometimes lose control. So I stay focused. I don't get emotionally involved in much of anything or anyone. Well, until I met Kae. Maybe she's my greatest weakness.
In your story, what moment was the most memorable, the most meaningful to you? Why?
Demyan has always used me and used my magick to gain power and defeat his enemies. There's a point in this story where I discover that my magick can also be used for good – to heal instead of harm. It was a revelation for me. Life changing. Everything could've been so different, given different guidance from the beginning.
But maybe that's true for everyone. It's the choices we make, and the voices we listen to that shape us into who we are.
And finally, is there anything you would like to share?
Do I have regrets? Of course – who can live seventeen years and have no regrets, right? Especially when you work for a merman like Prince Demyan. There are definitely going to be regrets, and they're going to be bloody ones at that.
But maybe I didn't realize just what I was missing, you know? Meeting Kae changed me somehow. In her eyes, I can almost see the merman I could've been. Should be. Do I want to be that guy? I guess I haven't decided yet.
Well, Alexander, it's never too late to change and you are only seventeen. It sounds like you have been given a great gift and I for one can't wait to see what you will ultimately do with it.
Blood of a Mermaid is on sale now –
Mermaid blood.
When Shea MacNamara fell into the ocean for the first time, he found he could breathe underwater. The son of a mermaid, the sea is in his blood. Literally. The best part of Shea's new life? His girlfriend Kae, who also happens to be a beautiful mermaid.
But darkness lurks under the sea. When evil mermen kidnap Kae, the king reminds Shea that having royal blood means making tough choices.
An Arctic dungeon, a fiery plane crash, the legendary halls of Atlantis…and narwhals?
Having mermaid blood just got a lot more complicated.
Book One in the series, Son of a Mermaid is now only $2.99
About the Author: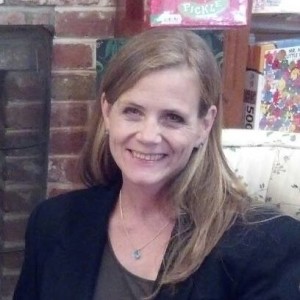 Katie O'Sullivan lives with her family and big dogs next to the ocean on Cape Cod, drinking way too much coffee and inventing new excuses not to dust. A recovering English major, she earned her degree at Colgate University and writes romance for young adults and the young at heart. Her editing column, "The Write Way," appears in the Literary Women section of CapeWomenOnline magazine.
Living next to the Atlantic influences everything she writes. Her YA mermaid series begins in Nantucket Sound with SON OF A MERMAID, and continues the undersea adventures with BLOOD OF A MERMAID, coming from Crescent Moon Press in May 2014. Her latest contemporary romance from The Wild Rose Press is MY KIND OF CRAZY, a Cape Cod story of second chances and starting over.
Website: www.katie-osullivan.com
Blog: http://katieosullivan.blogspot.com
Facebook: https://www.facebook.com/AuthorKatieOSullivan
Twitter: https://twitter.com/OkatieO
Goodreads: https://www.goodreads.com/author/show/3326303.Katie_O_Sullivan
Amazon Author Page: http://www.amazon.com/author/katieosullivan