Ghost Lover
By Liza O'Connor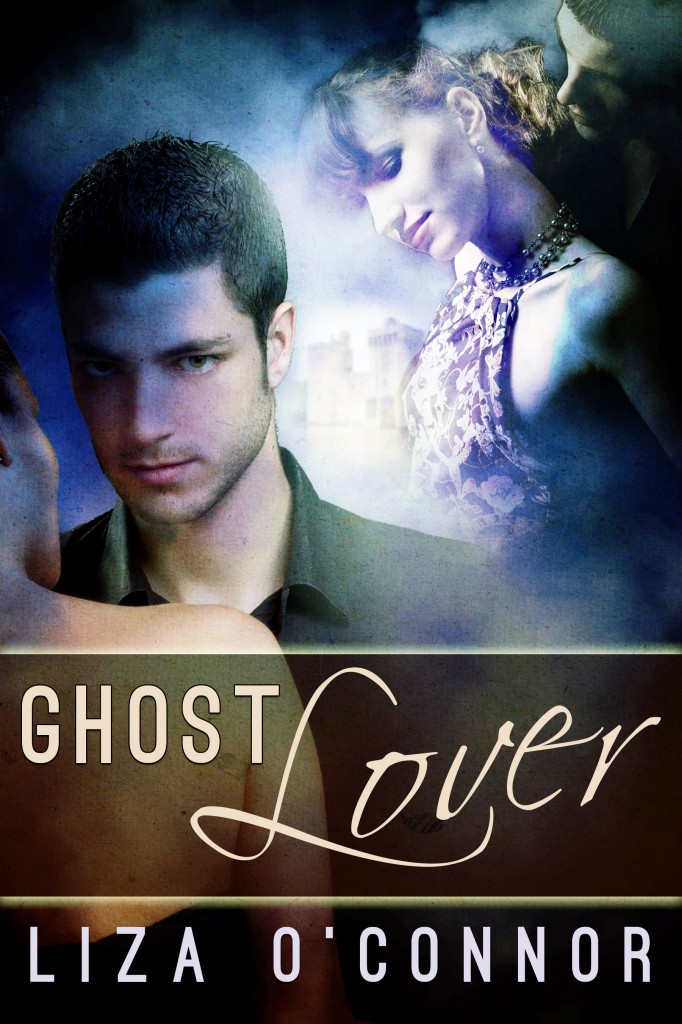 Contemporary Romance with a touch of paranormal
Blurb
Two sexy English brothers. One irresistible ghost. Who would you choose as your lover?
Completely broke and with a criminal record to boot, Senna Smith is one day from eviction from her apartment when Brendon, her promiscuous roommate from London, suggests she go to England, marry him, and manage his fortune. With few other options, she agrees to an open marriage. But she'll never, ever, have sex with him, knowing if she falls in love with him, he'll break her heart.
As trustee of Brendon's family fortune, there is no way Brendon's older brother, Garrison Durran, is going to let him marry a self-professed American gold-digger. As Senna tries to embrace castle life and English society for Brendon's sake, Gar discovers Senna is the perfect woman for him–beautiful and intelligent, kind and caring. Now, if she wasn't already engaged to his brother…
The ancestral ghost of Durran Castle has to intervene if the Durran brothers have any chance of an heir. He can't leave them to fix matters on their own. They are useless buggers when it comes to love. As counselor to Gar, matchmaker for Brendon, and lover to Senna, a ghost's work is never done.
CONTENT WARNING: Allergy warning: Ghost cat in book.
Excerpts
Excerpt 1
"So my brother steals all your money and to compensate you, he suggests you come to England, marry him, and he'll give you his trust fund." Only his brother could contrive such an absurd plan.
"Yes." By her brief answer, he gathered she thought it a perfectly reasonable solution.
His brother might be an idiot, but this gold digger would soon discover Gar a force to reckon with. "Did he steal a half million from your bank account?"
Brendon laughed. "Do you have any idea how long that would take? Cash machines only allow you two visits a day at two hundred dollars a pop."
"How much did he take?" Gar restated his question.
"Four hundred," Senna replied.
Gar stared up at the ceiling praying for patience, then glared at Ditz. "So why didn't you pay her back the four hundred?"
Ditz stubbornly refused to answer, and instead glanced at the girl.
She sighed and faced Gar. "Precisely what I asked. He said he didn't have the four hundred, but if I married him, he would come into a half million. Since the landlord planned to evict me, I really had no choice but to accept the offer."
Excerpt 2
Senna woke to her breast beeping. Trying to make sense of the oddity, she pushed herself up to rest on her elbows and discovered the noise came from Brendon's wristwatch. Somehow, his hand had found its way beneath her bra during the night, and now chirped like a baby chick.
She contemplated tearing his hand off at the wrist, but he looked so angelic with his curly dark hair framing his handsome face. With a heavy sigh, she unlatched her bra and eased his hand out, then gently shook him until his face scrunched into a pained grimace.
He groaned and frowned at his noisy watch. "This is a god-awful hour to be woken up," he said in his sexy British accent. "Never bothers me when I'm coming home at this hour."
Senna rolled her eyes. "Speak for yourself."
Pushing himself up, he shook his head. "Remember the second night I came around? You kept yelling at me, 'Did I realize it was four in the morning?' At the time, I couldn't understand your fuss." He groaned and scratched his scalp. "Well, I certainly understand it now. It's bloody hell to be woken at this ungodly hour."
Excerpt 3
Brendon moved to the window and stared out. "I don't think you realized how bad things became for me when Nan died. I'd lost the only person who cared for me. I had no one left. The million dollars I lost on a roulette wheel wasn't done just to get rid of the cook. I did it to get your attention. While you didn't give a shit about me, you've always loved money. And it worked. You finally noticed me."
"And sent you away," Gar said with remorse.
"Yeah." Brendon turned and gave him a faint smile. "Not exactly the response I'd hoped for, but it turned out all right. I met Senna and since then life keeps getting easier with each day. Now I find I even like you most of the time."
"Well, the feeling is mutual. You're still eccentric, but you've a good heart and good intent, and I'm proud you're my brother."
Suddenly the door opened and Senna walked in looking at both men with concern. "Are you two having a fight?"
"Not at all." Brendon smiled. "In fact, Gar told me he's proud I'm his brother."
Senna's eyes filled with appreciation as she grinned at Gar.
Her smile almost broke Gar's heart. God help him, but Brendon had nailed the truth. He did love Senna, and more than anything, he wanted her to be his wife.
AUTHOR INFO
About Liza O'Connor
Liza lives in Denville, NJ with her dog, Jess. They hike in fabulous woods every day, rain or shine, sleet or snow. Having an adventurous nature, she learned to fly small Cessnas in NJ, hang-glide in New Zealand, kayak in Pennsylvania, ski in New York, scuba dive with great white sharks in Australia, dig up dinosaur bones in Montana, sky dive in Indiana, and raft a class four river in Tasmania. She's an avid gardener, amateur photographer, and dabbler in watercolors and graphic arts. Yet through her entire life, her first love has and always will be writing novels. She loves to create interesting characters, set them loose, and scribe what happens.
FOR MORE INFORMATION ABOUT
LIZA O'CONNOR &
SAVING CASEY:
Liza's Blog and Website   Facebook   Twitter
To Be Released December 2, 2013