A Taylor-Made Life
by Kary Rader

In my recent release, A Taylor-Made Life I wrote the last words – NOT THE END.
 ****HUGE SPOILER ALERT****
If you prefer to read A Taylor-Made Life without spoilers, skip to the end of the post.
If you are familiar with the story, you know in the end the hero dies and the heroine is left to go on with her life. Many readers have assumed that because I wrote "not the end" that the heroine's story continues in future books.
And that is true. Taylor does have a follow-up story in which she gets her richly deserved Happily Ever After…but that was not my intent with the words NOT THE END.
A Taylor-Made Life is ultimately Gavin's story, his healing, redemption and Happily Ever After, in which he finds his bride, his son, and his future. But even though Gavin's story here ends and he passes from this life, I don't see that as the end of him or who he is. So when I say NOT THE END, I believe Gavin goes on in his story. We may not know that story—it's hidden from our view, but it goes on nevertheless.
****END OF SPOILER ALERT****
In my heart and mind, I have to believe there is something beyond this world—a place we can't touch with our physical selves but no less real, a place where I'm still me with all my essential parts that make me unique. And it's not a belief I hold merely to encourage myself or make me feel better about death—not at all. It's just that I can't see it any other way.
Everyone will die. And no one is promised tomorrow. When this life is finished, where will you go? Do you believe this is NOT THE END?
For a limited time A Taylor-Made Life is .99 at all major retailers. I pray you give the characters an opportunity to touch you.
About A Taylor-Made Life
Five years ago while I was pregnant with my youngest child, my husband was diagnosed with Stage IV melanoma cancer. It was a difficult and emotional time in our lives. He's now well and cancer free, but last year when a friend's daughter was diagnosed with cancer, all those emotions came flooding back. A Taylor-Made Life is the result of those emotions. It's a special story looking for a home in the hearts of readers. I pray you give the characters an opportunity to touch you.
What reviewers are saying:
"A Taylor-Made Life is one of the best books I've read this year and it's not one I'll soon forget… Taylor and Gavin stole my heart and my breath, and I wasn't ready to let them go." – Nikki Barrett, Storm Goddess Book Reviews
"Beautifully written, and I would dare anyone not to cry….. Gavin and Taylor have such depth and emotion, it's hard not to fall in love with them. These two characters will remain in my memory forever." – Melissa Limoges, Insert Clever Quip Here Book Reviews
"6 Stars, 2 full boxes of Kleenex…Beautiful!" – a.c. Mason, bestselling author
"Kary Rader is a wonderful new voice in New Adult fiction. Taylor-Made is a must-read."– Jill Limber, author and editor, Boroughs Publishing Group
"Live the life you're given; love the life you make. Get out your tissue box; A TAYLOR MADE LIFE by Kary Rader will make you laugh, cry, and contemplate your own life and mortality. With a bold female protagonist and a hardened hero, this novel confronts the difficulties of living and dying with cancer." –The Romance Reviews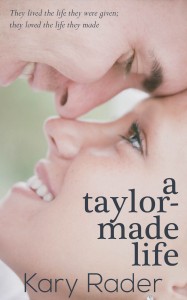 They lived the life they were given; they loved the life they made.
Cheerleader Taylor Smith doesn't want to die a virgin. Unfortunately, if the terminally-ill leukemia patient doesn't find a lover or a stem-cell match within months, her fear will become reality. When her cancer mentor is revealed to be a hottie entrepreneur from California, it seems fate might finally be on her side.
Tech-geek Gavin Taylor has everything he ever wanted, except someone to grieve for him when he's gone. With his melanoma cancer beyond the help of his riches, he agrees to participate in a cancer patient mentoring program where he's matched with a dying teen from Texas. Despite his immediate attraction, the Silicon Valley whiz intends only to provide friendship and happy memories to the beautiful, young woman who is determined to win his love.
When it's discovered that his frozen sperm and her harvested eggs could lead to a cure, Taylor's mother offers to be a surrogate. And Gavin must decide if he can risk the heart he has never given and a child he'll never know to a girl he just met.
 Please also add A Taylor-Made Life to your Goodreads TBR List http://www.goodreads.com/book/show/18012643-a-taylor-made-life
Goodreads: http://www.goodreads.com/author/show/6998567.Kary_Rader
This is a joint AUTHOR & BLOGGER GIVEAWAY EVENT!
Bloggers & Authors have joined together and each chipped in a little money towards a Kindle Fire HD 7″.
Kindle Fire HD 7″ Giveaway
The winner will have the option of receiving a 7″ Kindle Fire HD (US Only)
Or $199 Amazon.com Gift Card (International)
Or $199 in Paypal Cash (International)
Sponsoring Authors & Bloggers
1 winner will receive their choice of a Kindle Fire 7″ HD (US Only), $199 Amazon Gift Card or $199 in Paypal Cash (International).
There is a second separate giveaway for bloggers who post this giveaway on their blog. See details in the rafflecopter on how to enter to win the 2nd Kindle Fire.
Sponsor a future Kindle Fire Giveaway.  Details can be found here.
Open only to those who can legally enter, receive and use an Amazon.com Gift Code or Paypal Cash. Winning Entry will be verified prior to prize being awarded. No purchase necessary. You must be 18 or older to enter or have your parent enter for you. The winner will be chosen by rafflecopter and announced here as well as emailed and will have 48 hours to respond or a new winner will be chosen. This giveaway is in no way associated with Facebook, Twitter, Rafflecopter or any other entity unless otherwise specified. The number of eligible entries received determines the odds of winning. Giveaway was organized by Kathy from I Am A Reader, Not A Writer and sponsored by the participating authors & bloggers. VOID WHERE PROHIBITED BY LAW.