Just last night I finished the revised draft of A Taylor-Made Love and sent it off to beta readers. Fingers crossed that they love it as much as I do.
The cover reveal will be in a couple of weeks and I wanted the whet your appetites with a little UNEDITED piece from the book:
 If you're interested in being a part of the cover reveal you can join in at XPRESSO Book Tours.
This is actually one of my favorite scenes. It's between Taylor and her friend from Stanford, Candy (by the way, keep an eye on Candy you might be seeing her again, hint, hint) If you know and love the cheesy 1982 movie sequel GREASE 2, you will LOVE this scene.
"So you were saying…Brad," she said his name in a sigh, then belted out the first line of the GREASE 2 song, "His loafers were wegian. His chinos were black…"
I joined her. "With a cute little buckle that fastened in back." Then I fell over on the sofa and laughed. "I cannot believe you just sang that."
"We both just sang it. You know all the words too."
I bit my lip and looked over at her. "There's an instrumental version on YouTube."
She gave me the most hilarious 'Let's do it!' grin.
I pulled it up on my phone. And just like that. We were the twins in the movie, singing through the entire song about Brad, even doing the cheesy hand jives.
When the music ended, we both collapsed on the couch in a fit of laughter.
A slow methodical clap of hands came from somewhere behind us. I whipped my head around, saying a quick prayer which was obviously not quick enough.
He stood there, propping up the doorframe like it needed his coolness, looking all urban, and sexy, and far too entertained. "You know what they say about speaking of the devil."
Oh I knew, and it apparently held true for singing about him too. I bit my upper lip, trying to keep my cheeks from melting off my face, and wishing my sofa would eat me.
"Hi." I couldn't bear to say his name. Not after I'd just been caught singing it like a bad audition from American Idol. Didn't this building have security? Didn't I have a secretary to screen my visitors and keep this kind of thing from happening?
"Uhh…I'll just make my way back to the boys." Candy stood, awkwardly pointed to some invisible place down the hall and left me there to fend for myself. Just up and left as fast as her chubby little legs would carry her. Turncoat.
I hope that gave you a chuckle and a reason to tune in next time. Thanks for reading.
A Taylor-Made Love is releasing on May 12 at all major retailers.
A Taylor-Made Life is available now.
They lived the life they were given; they loved the life they made.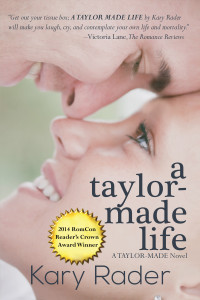 Cheerleader Taylor Smith doesn't want to die a virgin. Unfortunately, if the terminally-ill leukemia patient doesn't find a lover or a stem-cell match within months, her fear will become reality. When her cancer mentor is revealed to be a hottie entrepreneur from California, it seems fate might finally be on her side.
Tech-geek Gavin Taylor has everything he ever wanted, except someone to grieve for him when he's gone. With his melanoma cancer beyond the help of his riches, he agrees to participate in a cancer patient mentoring program where he's matched with a dying teen from Texas. Despite his immediate attraction, the Silicon Valley whiz intends only to provide friendship and happy memories to the beautiful, young woman who is determined to win his love.
When it's discovered that his frozen sperm and her harvested eggs could lead to a cure, Taylor's mother offers to be a surrogate. And Gavin must decide if he can risk the heart he has never given and a child he'll never know to a girl he just met.
Book Sale Links:
Amazon: http://www.amazon.com/dp/B00DU52U5K
Smashwords: https://www.smashwords.com/books/view/334257
Barnes and Noble: http://www.barnesandnoble.com/w/a-taylor-made-life-kary-rader/1116156956?ean=2940044642799
Goodreads: http://www.goodreads.com/book/show/18012643-a-taylor-made-life