It's finally here! Release day for Queen of Jastain!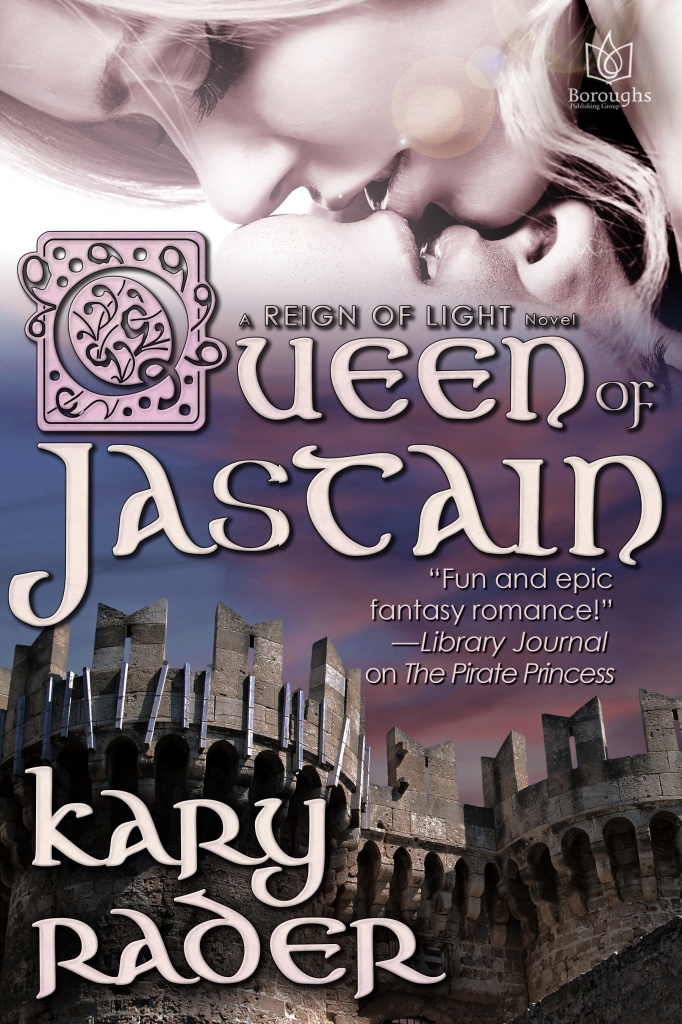 The Light brought her to the hero of Jastain, but now, modern-day Texan Abby Randall must fight an epic battle before she can become his queen.
OUT OF DARKNESS
For twenty years, Avant has faithfully awaited the arrival of the Chosen One, a hero who will fight by his side to restore the missing Crown and drive Darkness from his kingdom of Jastain. But when she finally appears, Avant's attraction to the Light's champion threatens his long-held beliefs, his plan for revenge against the Dark king, and two decades of fidelity to a stolen bride.
INTO LIGHT
Abby Randall can't possibly be Sir Hots-A-Lot's "One." Sure, she was mysteriously transported to this medieval land, but her only super powers are shopping and party-planning. Yet, destiny will not be denied any more than her desire to see Avant's skill with his, uh, sword. They embark on a quest to face the very source of evil, where they will learn that only great love—and even greater sacrifice—will make her his Queen of Jastain.
Book Sale Links:
Queen of Jastain Review Excerpts
*****5 out of 5 stars couldn't put it down….., April 18, 2013
By
lovetheromance – See all my reviews
 This review is from: Queen of Jastain (Kindle Edition)
I love a great romantic adventure and this book was that and more. I wasn't quite sure what to expect and this story had a little bit of everything (and everything I wanted!) Of course, the romance was there but also a lot of adventure including time travel. I won't give it all away but in short, Abby (from Dallas) had a really, really bad day and finds herself traveling to another world -very medieval world. A world that doesn't include high-end malls and designer shoes and coffee. She immediately runs into Avant – who believes their meeting wasn't just by chance. Ok… Avant is hot. Really hot. I mean.. he may be one of my favorite heroes ever. He also says "my lady" a lot and likes to go and purchase dresses for Abby. Really! Anyway, their relationship grows over time and she learns to use a "gift" that she didn't even know she had. I found myself laughing at many of Abby's comments (she is very funny!) but also feeling sorry for her at times as she dealt with living in their world. Lots of romantic tension, too. Think Sabrina Jeffries. Forgot to mention…there is another character in this story "Petra" who reminds me a lot of Jacob in Twilight. He is just a solid place to land and he falls for Abby. There are surprises in this story but you will feel very satisfied at the end. This isn't a book where you will be frustrated and need to read another book to see what happens. Also, this is a full book – not a short story. Things end well, too. DEFINITELY worth your time and money!!
****4.0 out of 5 stars Time travel, romance and adventure, April 16, 2013
By
Jacque (San Francisco Bay Area) – See all my reviews
 Avant has been waiting years to seek his revenge against the dark king. His goal: restore the Crown and to bring peace to the people of Jastain. First, he must find the Seed of Light. In walks Abigail…or shall I say drive. Abby is having the worst day of her life. She finds her ex-boyfriend with her best friend as they go to make an important announcement. As she flees away in her beloved X-terra, she suddenly finds herself in a meadow with a strange man running towards her. Together they embark on their quest to provide peace for the people of Jastain. However, can they do it without sacrificing what matters most – their love?
Abigail is the perfect heroine for this story. She has a sass about her that makes her a completely likeable character. "Sir Hots-A-Lot" Avant is just that…HOT and way too honorable for their raging hormones. The story line is presented from both of their points of view, which allows the reader to experience both their frustrations, passions and emotions. The secondary characters are all wonderful additions and supply interesting surprises to the over-all story.
I like how the story feels medieval without being too historical. With no set time period, I have the freedom to enjoy the story without having to analyze for time period accuracies. There is an underlying, not religious per se, but a spiritual quality that combined with the supernatural, adds a depth to the story. Author Kary Rader did a great job of explain everything but occasionally I found the plot dragging a bit. I personally would have preferred a little more romance and a little less adventure. Overall, Queen of Jastain is a real good book. If you are looking for a great read to while away the afternoon then look no further
I was provided a copy of the book for purpose of honest review. I was not compensated for this review in any way and the opinions of this review are all mine.
Stars – 4 Flames – 3
*****5 out of 5 stars Time travel romance with a strong heroine that kept me smiling, April 16, 2013
Katie O'Sullivan – See all my reviews
 With beautiful descriptions, sparkling dialogue, action-packed pages, and a strong heroine who grows into her power as the story progresses, QUEEN OF JASTAIN has everything a reader could ask for from a time travel romance. This well-written tale kept me reading well into the night, cheering for Abby and rooting for her happily-ever-after.
The novel starts with a bang in present-day Texas, where we meet spoiled little rich girl, Abby Randall, moments before her former best friend delivers a gut-wrenching blow with her engagement to Abby's ex-fiance. In the ensuing maelstrom of emotions, Abby is somehow transported through time to a medieval kingdom, where her cute little car is sorely out of place and her designer mini skirt and high-heeled Dolce Gabanas are even more of a problem.
Enter the handsome knight, whom she rescues from pursuers on horseback. Avant has waited for so long to avenge his kingdom, but didn't expect the champion of prophesy whom he was waiting for to be… a woman. Especially not a beautiful woman with whom he is so completely and utterly captivated.
The tension between Avant and Abby practically sizzles on the page, especially since Abby's a thoroughly modern woman, and Avant a chivalrous medieval prince. Ms. Rader alternates the point of view between Abby and Avant, so the reader is privy to the sexual tensions mounting on both sides of the equation, and to the frustrating situational misunderstandings that arise and come between them.
When I was younger, I had a real thing for King Arthur and medieval-type stories. One of my all-time favorites is A Connecticut Yankee in King Arthur's Court, by Mark Twain. Not that it's a great Arthurian tale, but I love the time traveler aspects to it, and the juxtaposition of the modern guy thrust back in time to the Middle Ages. The narrator's quirky humor provided a fresh perspective on all things medieval.
In QUEEN OF JASTAIN, Abby's dry wit and self-deprecating humor reminded me of Twain's narrator, and had me smiling along with her as she navigated the strange landscapes of Jastain.
Bottom line? I loved this book and totally look forward to reading more from this author.
Book Sale Links:
Amazon: http://www.amazon.com/dp/B00R2J5ZZW
All Romance eBooks: https://www.allromanceebooks.com/product-queenofjastain-1703852-153.html
Links:
Website/Blog:  www.karyrader.com
Twitter: https://twitter.com/KaryRader
FB Author Page: https://www.facebook.com/KaryRaderauthor
Goodreads: http://www.goodreads.com/author/show/6998567.Kary_Rader