Son of Dragons by Andrea R. Cooper
Son of Dragons Book 2 Legends of Oblivion series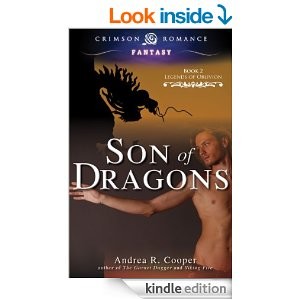 In a time of false peace, the dead rise as soldiers for the Warloc's scheme. For thousands of years he has stood ready for the final battle. Though the witch and her cursed Elvin have destroyed his physical body, now with his protégé, he has honed a new way to wage war.
Shunned by her own people and weary-hearted from centuries of lost loves, Elvin warrior Mirhana scours the land to silence the undead. Her heart has turned as cold as the sword she wields, until a prince seeks her aid.
Never has Prince Landon met a woman like Mirhana. Both beautiful and deadly, she haunts his dreams. The battle at hand becomes more enchanting than fighting to remain true to his unseen betrothed.
When a traitor emerges, new alliances are tested and the only remaining hope is to follow the prophecy and find the … Son of Dragons.
Son of Dragons is a superbly written, fast-paced fantasy adventure with lots of twists and turns. The plot kept me guessing to the end and not everyone is as they seem—in fact, almost no one is.
Mirhana is a twin-born elf raised by witches due to a long held tradition that the one of any twins born are given to the witches as a sacrifice. But far from sacrificed, Mirhana is raised well and taught to use her magic to its maximum potential. Because she looks more human than elf, her powers tend to be underestimated by her enemies. And as a result of living centuries among the short-lived and physically vulnerable humans, she has learned not to get attached.
Prince Landon is heir to a large kingdom and betrothed to woman he's never met for the benefit and protection of his people. While he is sought by an evil sorceress for reasons not quite clear early in the story, his heart is enraptured by the bold and brave Mirhana.
He and his companion join forces with Mirhana and her recently discovered twin to battle the mounting evil in their lands. The group of gifted warriors bands together on a quest to confront the unknown evil threatening their freedom and their lives.
In the process, Mirhana and Landon clash wits and wills and battle an obvious attraction that can never be—because Landon is betrothed and Mirhana has closed off herself to love.
But all is fair in love and magic and the two continually find themselves together and unable to deny the chemistry between them.
Son of Dragons is a harrowing adventure of epic proportions set in a world full of magic and mayhem. I barely had time to catch my breath before a new crisis arrived. For fans of Tolkein and romance, Son of Dragons will not disappoint. The world is rich and vibrant, but so fast-paced you better hold onto your butts.
I highly recommend this wonderful fantasy adventure romance.