Welcome to the Just Romance Me Earth Day Blog Hop!
I'm still swimming in joy from the events of this week. My first novel, Queen of Jastain released Monday and I've been dancing ever since. If you like Epic Fantasy I hope you'll pick it up on AMAZON.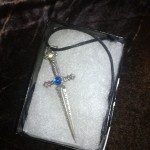 I'm giving away two prizes today — A crocheted hat and a sword charm necklace. The necklace is honor of my recently published story and is a miniture replica of Avant's sword. The crocheted hat…well that's something different, right?
When I think about the Earth, I wonder what in the world little ole me can do to help.
What do you do? What can you give?
Many years ago at a Zig Ziglar motivational seminar, a group of us were asked to write our own obituaries to be read in front of the whole conference. The object of the exercise was to get us thinking about the mark our lives would make and how we wanted to change the world around us.
I remember sitting there with a blank page not really knowing what to write. Everyone at the table around me was scribbling something and I was just sitting there. Staring. My palms began to sweat and my heart began to pound. My throat constricted and my eyes enviously flitted from one person to the next. All my peers, my friends, would have something to say, and I would look like an utter dork. Anger built in my chest that these "motivational" people would put me in such an embarrassing situation. I even considered walking out. That's how stressed I was.
Then one of the leaders came and sat by me. She smiled and said, "You have to let you imagination go. Don't think of limitations. What would you do if anything were possible?"
Let my imagination go? Now that was something I could do and I wrote the most outlandish, unattainable obituary I could think of. Donald Trump would be envious. Even Oprah couldn't compare. It flowed and was well phrased, because even back then, when I didn't know what my gift was, it was still working in me.
In my obituary, Fictional Me established dozens of charities which had completely abolished world hunger and illiteracy.
Our small group leader, a lady by the name of Lauren Clark, gathered our pages and read them aloud. When she came to mine, she stopped and gasped, "Kary. This is amazing! This is amazing."
She read the obituary with a genuine reverence and everyone turned to look at me. I was thinking, oh great, I've done it now. But they had wonder in their eyes. People I'd known for years congratulated me on the obituary and Oohed and Ahhed over how amazing it was.
I left the seminar that day wondering what in the heck had happened. Those people had actually believed I could accomplish something so outrageous. Lauren Clark, a woman I respected and admired like few others, thought I could do what I wrote. She came up to me years later and told me she remembered that obituary and it still inspired her.
To this day I'm amazed that she could have so much confidence in me and I'm inspired by her belief, because she made me realize that dreams without limitations are powerful and possible. Maybe I won't accomplish all the things in that obituary. Maybe I will, but if I don't, it won't be because it isn't possible. Anything is possible if you believe.
Incidentally, Lauren's own obituary was about being a missionary that traveled the world helping those lost and in need. Today, you can find pictures of her travels and the work she's doing one her website: Lauren Clark Ministries
For a chance to win leave a comment and tell me — What are your dreams without limitations? If you had to write your own obituary today what would you want it to say?
Comment by 11:59:59 PM Eastern time on April 22, 2013 for your chance to win. One (1) winner will be selected randomly using a Random.org. Winner will be contacted by the blog owner bywithin 10 days of contest end. Only one entry per ISP address. The contest is open to US and Canadian residents only. Not valid for overseas. No purchase necessary to enter. Odds of winning depend on number of entries received. Void where prohibited..