I am so honored to have Sheri Fredicks on the blog today! I had the honor of reading this story several months ago and was amazed by the magic it stirs but the beauty of Sheri's story is that it creates fantastical worlds and creatures with genuine heart and emotion. There is such a ring of authenticity to her conflict and characters.
Sheri, Welcome! Thank you so much for coming by and giving us a glimpse into the beautiful world and characters you've created.
A little of me in every story
By: Sheri Fredricks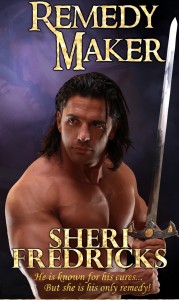 First of all, I want to thank Kary Rader for inviting me to blog on her beautiful site today. Not only is she a member of my awesome critique group, but she provided me with so much encouragement while I queried and sent Remedy Maker out on submissions. Talk about nerves, I was an absolute giggling idiot. Thank you, Kary!
Also, I have a fabulous swag prize for one lucky commenter, so don't forget to leave your email address!
Born and raised on the central coast of California in a small beach town, I write a combination of fantasy and paranormal fiction romance. And one thing I've noticed is a paranormal romance story can be set anywhere in the world. Many wonderful books I have read have been set in Seattle or San Francisco, New York, and the mountains of Colorado. One day, I'll write a story located in my home town.
When I set out to write, I chose the setting for Remedy Maker because of its heavily wooden seclusion. After researching the possibilities, the state of Pennsylvania came out as top choice. The story begins in an isolated cabin located in the fictional Boronda Forest, where Rhycious lives.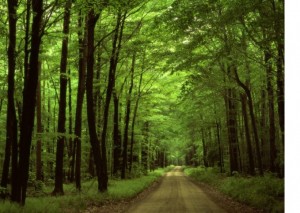 Photo credit: Andre Galvonski
In this scene, he is having a moment of psychological stress, yet we get a sense of where he lives.
Outside, his footsteps crunched over a faint walking trail weaving through the Centaur kingdom. Low-lying mist blanketed the moss-draped forest. Deadfall branches protruded upward in eerie intervals, as if Wood Nymph warriors from centuries ago were rising from the dead.
Thoughts of lifeless Nymphs ushered in a remembrance of territory rivalries, greedy opposing rulers, racial prejudice, and war. He tightened his fists in an attempt to squeeze the pictures from his head. Early morning quiet and the peculiar scenery brought this on, he reminded himself. While his head understood this, his gut compressed regardless.
Another major setting is the Centaur palace where the hero mixes with royalty and politics.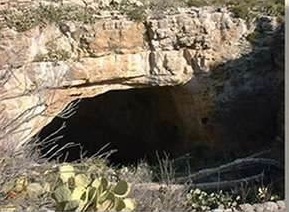 Photo credit: thunderstorm
The dark passageway rounded a final bend and opened to an enormous, well-lit cavern. Neatly trimmed bluegrass covered the floor, absorbing the echo of a multitude of voices and hooves. Granite walls curved inward, rising three stories high and surrounded the circular room, their ancient pallor reminiscent of gray hair with white sparkling stripes.
Over on the left, a marble fountain bubbled. Water spurted from a trumpet the rearing Centaur statue blew. Orange and lemon trees in giant fire-glazed urns provided an outdoor feel to the underground cave. No chance of taproots, she noted. Benches and seating areas clustered, giving the space a park-like setting. On the second floor, open balconies viewed the hub of activity in the courtyard below.
Not having visited the east coast, I relied on the advice and recommendations of those who live there. Research into the areas I wrote about only fueled my desire to see it for myself one day. Living near four National Forests, I'm familiar with the woods and redwood forests that are centuries old.
These are just two of the settings in my latest release, Remedy Maker. I hope they transport you to an extraordinary place where mythological beings could possibly exist.
How about you? Do you like to read stories that take place in areas you're familiar with, or would you rather use fiction to journey to someplace new?
Remedy Maker – Blurb
Man by day, Centaur by night, Rhycious is a remedy maker who needs his own healing.
He's the royal physician, famous for his cures. War and posttraumatic stress disorder has broken his spirit, preventing him from finding true happiness. Then a direct order from the queen to investigate an uprising forces him out of his secluded cabin at the edge of the forest.
Patience is an optimistic, good-natured Wood Nymph who works as a mediator to ensure harmony within the Nymph sector.
Environmental pollution in the aquifer stream that feeds the taproot tree of her heart is slowly killing her. Resigned to the fact she will not live long, she sets out to discover the mysterious disappearance of her sister. Experience has taught her to deny herself the love of a male, but the gruff Centaur is different. He doesn't push his expectations on her, only his healing nature.
When Rhycious loses his grip on reality, he believes his inability to control his disorder will drive Patience away. Nevertheless, desire flares, and Patience draws him close. Kidnapping and betrayal turn their mythic joint venture into a deadly bout.
Will their love endure when survival hinges on trusting each other?
Amazon      Barnes & Noble     and other online retailers
Author Bio:
Always on the hunt for the uncommon things in life, author Sheri Fredricks thrives on creating adventures in her mythological kingdom for her readers.
A former engineering secretary, Sheri lives on the beautiful central coast of California. "I wanted to move away from inflexible right angles and create an unboxed world with no boundaries." A voracious reader since her early years, Sheri found her brain crowded with stories and characters of her own. "Ultimately," she says, "my husband encouraged me to write them all down."
Sheri loves to spend time at home. A computer hutch keeps her focused on creating stories, but the panoramic view of life on a ranch will call her outside to play in the sun.
Find me:
Website:          www.sherifredricks.com
Blog:               http://sherifredricks.blogspot.com/
Facebook:        http://www.Facebook.com/SheriFredricks
Twitter:           http://twitter.com/Sheri_Fredricks
Google+:         https://plus.google.com/110453866572654780975/posts
Don't forget to leave a comment for the fabulous swag pack!