I have a very special guest with me today talking about a "No-No" topic — Religion. Please welcome Author of The Never Prayer, my friend, and fellow philosopher, Aaron Michael Ritchey!
Aaron, thank you for being here today and for talking about such a fun, stimulating subject!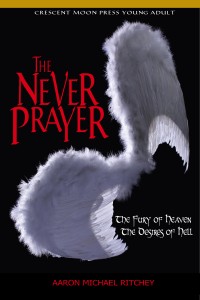 Thank you, Kary Rader for letting me crash your blog like a Cadillac Escalade into a prison wall.  Hopefully there won't be too many bricks to clean up.
Ms. Rader suggested I write about how our cultural beliefs affected the writing of my debut novel, The Never Prayer.  Yeah, heady stuff, but how awesome is that?
In some ways, my book is completely aligned with our cultural beliefs.  I truly believe that America's primary religion is romantic love, and in that way, The Never Prayer is a romance.  My heroine finds healing and redemption through a love affair with an angel.  Yet the story doesn't start out lovey dovey, not at all.  And that's where I get all counter cultural, yo.
I wanted to play with some of the stereotypes of angels and demons, and so at the beginning of the book it's not clear who is the demon and who is the angel.  Demons are all about hell and heat and torture, right?  Not my demon.  And angels are about love, acceptance and goodness, yeah?  Again, my angel doesn't play by the rules.
In your traditional American story, the angels are good, the demons are bad, and it's heaven versus hell.  I did NOT want to write a story that was so easy, so both my demon and my angel are broken, and my heroine is caught in the middle, also broken.
Ah, I love my little book.  It's a treatise on service, a very Christian idea, because in the end, hell is selfish.  Caught up in our little drama, it's so easy to torture ourselves with what we want and what we don't have.  And yet, my book also has existential atheist themes – if life is meaningless, we have to create our own meaning, and if heaven is empty, we must be the angels.
My angel wants to fix the world, and at the beginning, he hates my heroine because she is so human and imperfect, but as he grows and changes, he realizes that being human is hard and that life is messy, but we can find joy in the mess.  Our struggle gives life meaning, and if God is anywhere, God is in the struggles that defines our lives.
As for my demon, he is all appetite, another one of America's religions.  What is Thanksgiving if not a celebration of our appetites?  We hunger, so thank God we have turkey to stuff ourselves with.  Dude, the turkey gets stuffed, and then we eat the stuffed turkey to stuff ourselves.  My mind just exploded.
I can be pretty judgmental of American culture, but I love being an American because we Americans are a hopeful people, but there is one area where we go astray.  We think we can kill the demons in our lives and be perfectly good and happy.  Look at our stories. There is evil, we kill the evil, and we all live happily ever after.
I don't think it works like that.
I don't think we can kill our demons.  I think we have to do something harder—I think we have to live with them.  There's an old story about an Indian chief who had two wolves tattooed on his chest—one was a wolf of darkness and evil, and the other, a wolf of goodness and light.  When asked about his ink, the wise old chief explained that the wolves are fighting over his heart.  Which one wins?  The one he feeds.
So my heroine does find healing and redemption through romantic love, but she also makes it through to the end because she learns to starve the demons around her while embracing hope.  Because I think it's a universal truth that what we focus on grows and flowers, and what we ignore diminishes.  If you want peace, quit fighting.  And trying not to fight?  Well, that can be a struggle.
So that's my book, part Christianity, part atheism.  Part light, part dark, but there is joy.  As long as we remember to starve the demons and feed the angels.
The Fury of Heaven The Desires of Hell — The Never Prayer
A Broken Girl Shattered by the death of her parents, Lena knows she is not handling her sorrow well – keeping to herself, running drugs, risking her little brother.  But she'll do whatever it takes to keep her disintegrating family together.
Two Lost Souls Lurking on the edges of the afterlife, Chael and Johnny Beels have spent centuries manipulating events, one pushing for good, the other sowing chaos.  Now these two desperate souls have taken human form to play a dangerous game of hope and despair with Lena trapped in the middle.
The Ultimate Sacrifice Lena must maneuver the shadowy realm between angel and demon, love and lust, good and evil, until she finds the courage to see the truth and make the ultimate sacrifice.
When do we struggle to change the world? When do we let go and embrace life's broken beauty?
Aaron Michael Ritchey
Aaron Michael Ritchey was born with Colorado thunderstorms in his soul.  He's sought shelter as a world traveler, an endurance athlete, a story addict, and even gave serious thought to becoming a Roman Catholic priest.  After too brief a time in Paris, he moved back to the American West and lives semi-comfortably with three forces of nature: a little, blonde hurricane, an artistic tornado, and a beautiful, beautiful blizzard.
He is happiest dancing among the extremes, reading Twilight,  Atlas Shrugged , and A Case for God at the same time.  Like a playlist on shuffle: Fatboy Slim to Rammstein to George Strait to Katy Perry.   He loves the ambiguous and the incongruous.  The beauty of reality, as well as the tragedy.  From the basest evils to the most transcendent good.
So writing Young Adult novels is perfect for him because that is a time of extremes and firsts, and who doesn't love firsts?    First time on our own, first kisses, first heartbreaks, first everything.  It's an exciting, dramatic time, and that's exactly what a good story needs, excitement and drama.
www.aaronmritchey.com www.facebook.com/theneverprayer www.twitter.com/aaronmritchey