Welcome T.K. So happy to have you here! Congratulations on the new release.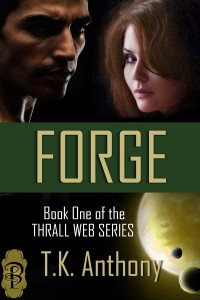 Anyone who goes to T.K.'s website and leaves a comment (http://www.scotianrealm.com) before midnight EST on August 10th, 2012, will be entered in a drawing for a free e-copy of "Forge" in the format of their choice! Drawing will be held on Friday, the 11th.
Hey, Kary…thanks so much for having me! I'm very excited to be here, and looking forward to spending time with you and your readers. The Celtic theme makes me feel right at home.
Thanks so much! I'm pretty proud of my cyber home.
Can you tell us about your story and how you came up with the idea?
Hah. Not really! At the time I started writing "Forge," I had a lot of angst going on in my life. In the midst of the turmoil, I opened a Word file, called it "don't know" and described the picture in my head of a man on a horse-drawn wagon traveling down a road at night. At first, I thought I might be writing a Western, until I looked up and saw two moons in the sky. Hmmm. Okay, science fiction, then. Who was the man? Where was he going? What would he find down that fork in the road? Wow, that dude's really in trouble! How come? Who is he? Oh, he's in love with a woman, but he doesn't know who she is? Must be at least a dash of romance. Who're the bad guys, and want do they want?
I kept asking my characters questions, and they kept coming up with interesting answers. Totally seat-of-the-pants. Surprising, exhilarating…I had FUN! When I wasn't appalled at some of the things that happened to my characters.
Looking back over all of the intimate moments you've created between characters, which scene would you most like to experience for yourself? 
Not that I'd like to experience this one myself, but…. My main character wakes up in jail on Forge—a colony planet shared with the reptilian Xerni and the Tormin amphibs. He's hung over and crashed out—with no memory of who he is, or how he got there. He's "tazhret"—"nameless" in the Tormin tongue. All he remembers are terrifying visions of enslavement in chains…and one bright vision: a beautiful woman who tells him he isn't nameless. He has a good name, a good life. He has no idea who she is, whether she's real, or a drug-induced hallucination. But she's his lifeline in a sea of misery as he's sold into indentured servitude, living out the worst of his visions. I love the scene when Tazhret meets his dream woman at last. 
Which genres do you write in and why?
So far, (not counting unpublished fanfic) I've only written in SF—probably because that's my favorite genre to read. Not that I haven't spent a lot of time in romance, mystery, Westerns, thrillers, historical fiction, YA, dabbling in philosophy, theology, assorted reference books, and cereal boxes…but SF is my go-to comfort food. Ever since…hmmm, I think I was in sixth grade when my eldest sister hooked me on "Chronicles of Narnia" and the Lensmen series.
What are you currently working on?
I'm polishing the sequel to "Forge." The working title is "Web of Destiny." I was very fortunate to work with Laura Garland of Decadent Publishing as my editor on "Forge." I learned a lot from her, and now I'm looking at "WoD" with a sharper eye.
Just the other day, a new character started to stumble out of the creative cloud. I'll need to find a home for her soon.
Do you have any writing quirks?
It all seems normal to me! I often listen to music when I write—classical, celtic, bluegrass. But it has to be instrumental. Anything with lyrics just breaks my focus. Also, my cats usually sit in my lap or on the back of my chair. They keep my keyboard fuzzy.
What gets you into the mood to write?
My characters kicking me in the backside with more answers to questions I didn't know I had.
Favorite snack or drink while you write?
Anything chocolate. Or salty. Or both. I drink a lot of water. Sometimes I'll have hot tea, or a Coke…or maybe a bit of my sister's homemade cherry cordial. With chocolate.
Any words of advice to aspiring authors?
Keep writing. Listen to your characters. Get a really good beta reader. Don't expect perfection, because it kills creativity. Strive for excellence. Persevere. Be courteous, kind, obsequious and clairvoyant. (Oops. Started to channel Steve Martin, there.) Did I say be persistent? I read something on Jim Butcher's website that really struck a chord. Paraphrasing here: If you want to be a writer, only you can kill your dream. No matter how many rejection slips you get (a la' J.K. Rowling and Jim Butcher)…the dream's alive, as long as you're pursuing it. Keep writing.
What are you currently reading?
Let's see. I just enjoyed Alexa Bourne's "Her Highland Champion" and Diane Dooley's "Mako's Bounty," both from Decadent. Re-read Robert Roman's "Fae Eye for the Golem Guy," another Decadent tale. Also, I'm halfway through an historical fiction set in medieval Scotland, a collection of Sherlock Holmes stories, and some Scots' fairy tales. Just finished Naomi Novik's "Crucible of Gold"; Butcher's "Ghost Story"; and Lee & Miller's "Ghost Ship." (Yes, I'm way behind the curve!) Started re-reading an old Georgette Heyer. I usually have at least a couple of books going at once.
And finally, is there anything you would like to share?
Gratitude. Writing—in my experience at least—requires a cast of thousands. Sooo many people had a hand in this. My husband, my siblings, any number of cousins, nieces, nephews, friends. Beta readers on a critique website. Decadent Publishing, for picking up my book. My editor, Laura Garland. Robert Roman, who kept nag…um, encouraging me to send out my book to publishers. My guardian angel and St. Anthony. The Muse. All of them gave me help I needed. From moral support, to 'aha' moments of imagination, from insightful feedback, to actual help in covering for me so I could get back to writing. "Thank you" hardly scrapes the surface, but it's a start.
And thank you, again, Kary, for having me over for this delightful chat! I just want to remind folks to leave a comment on http://www.scotianrealm.com on August 10th for a chance to win a copy of Forge!
Blurb:
Warned by a Seeing…
The high king of the Scotian Realm expects the arrival of an enemy, a race of psychic predators bent on galactic conquest. The Realm's one hope is alliance with the neighboring star domains in defense of a shared colony, Forge.
Caught in Fate's grim weaving…
Mindblind, amnesic, Tazhret lives out his drug-induced visions of servitude on Forge. He wants to believe the beautiful woman with the nut-brown hair who whispers reassurances to his harrowed heart: "You have a name." But is she even real? Or just one bright thread in his dark dreams?
An unexpected hope…
Tazhret's destiny leads him to freedom and the woman he yearns for—and to a desperate struggle against the enemy.
Tazhret can save Forge, and the clan of his beloved. But only at the cost of all he has hoped for: his name, his freedom, and his love for the woman with the nut-brown hair.
You can buy Forge On Amazon.com/On Decadent Publishing/On Barnes and Noble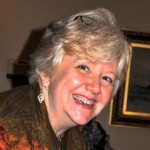 You can find T.K. Anthony at the following:
Twitter: @TK_Anthony_
Facebook: https://www.facebook.com/profile.php?id=100000685321001