Welcome Kinley back to the blog! Kinley came on a couple of months ago with an AWESOME cover reveal and now she's back with the same book that has been released.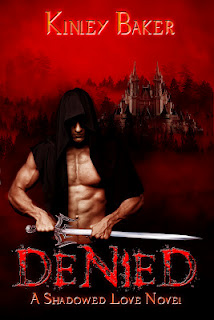 Thanks for being here, Kinley! You know I'm a HUGE fan of yours.
Can you tell us about your story and how you came up with the idea?
The first book I wrote in the Shadowed Love Series is called Ruined and it's about Vale and Jessa. When I wrote that book, I wanted to write a book about a realm full of shadows, and create something a little different than the paranormal romances I was reading at the time. Denied is Caleb's story, and I knew the moment he lost the women and children of his race that I wanted to give him hope. He's the type of man who fights, and I wanted readers to see him strive to save his people.
If a reader is unfamiliar with your work, which of your books would you suggest he or she read first?  Why?
Each story stands alone, so whichever blurb makes you want to read the story more. Also, I have a novella releasing on July 15th, which will be 99 cents. I'm super excited for the story because I love the idea that readers can discover the Realm of Shadows for less than a dollar. The story is about King Falon and his Queen, Ella. I heart them so much, and I hope readers like them, too.
Which genres do you write in and why?
Shadowed Love is a fantasy romance series, and I write it because I love the freedom of alternate realms. And I'm a little obsessed with happy endings. I also have a post-apocalyptic/futuristic novella series coming up, and I'm working on some paranormal romances and of course more fantasy romance stories.
What are you currently working on?
My focus right now is the third book in the Shadowed Love Series.
What gets you into the mood to write?
I wish I had an answer to this question. Nothing really gets me into the mood. If I'm lucky, I can see the scenes in my head and I know where I'm going. If I'm not lucky, I have to force myself to sit down and just start typing.
Favorite snack or drink while you write?
I try not to snack or drink while I write, but give me some jalapeño chips and diet coke at break time, and I'm usually a happy camper.
Any words of advice to aspiring authors?
Keep writing, reading, and improving craft. It's all any of us can do. It's what I'm trying to focus on right now.
What are you currently reading?
I'm mainly re-reading books I already have on my kindle. I love contemporary category romances.
And finally, is there anything you would like to share?
Yes! My appreciation for you allowing me to visit your blog. J Thanks for hosting me!
DENIED  
SHADOWED LOVE, BOOK TWO 
By Kinley Baker
Genre: Fantasy Romance
Publisher: Crescent Moon Press
 When invaders brutally massacred the women and children of the Varner, Caleb witnessed loss and destruction on a scale few can comprehend. As the leader of a race on the brink of extinction, his only hope for survival is gaining acceptance into the Shadow Shifter Kingdom. Struggling with new customs, he meets Tabitha, a woman who challenges his limits.
Refused the right to join the king's guard because of her gender, Tabitha must be stronger than the men to prove she deserves to be the first accepted female Warrior in the kingdom. She believes Caleb will help improve her abilities, until she learns her goals conflict with the foundation of his culture.
When the realm is attacked, Tabitha and Caleb must come together not only to fight, but to find the strength to win against an evil with the potential to destroy everything they revere most–including each other.
You can find Denied at the following retailers:
http://www.amazon.com/Denied-Kinley-Baker/dp/1937254615/ref=sr_1_1?ie=UTF8&qid=1341185792&sr=8-1&keywords=denied+by+kinley+baker
http://www.amazon.com/Denied-Shadowed-Love-Novel-ebook/dp/B008GONFN6/ref=sr_1_2?ie=UTF8&qid=1341509865&sr=8-2&keywords=denied+by+kinley+baker#
http://www.barnesandnoble.com/w/denied-kinley-baker/1111610337?ean=9781937254612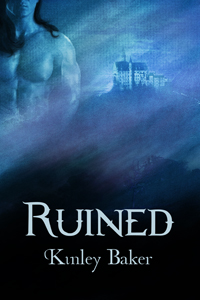 RUINED: Shadowed Love Book One
By Kinley Baker
Genre: Fantasy Romance
Publisher: Crescent Moon Press
BLURB:
Jessa is one healing away from death. Under the thrall of her gift, the Court's Senior Healer risks giving her life in exchange for her patient's.
Vale is a rebel ruler. When his brother is killed, he's given the throne and the decree from the Court to produce an heir or lose his family's hold on the land–and his deceiving advisors aren't afraid to use murder as a weapon if their directive to stay away from the Senior Healer goes unheeded.
But Vale burns to possess Jessa. The heat between them leaves a wake of smoke, and even the powerful forces above want to bind them in a union that lasts forever. Vale taking another would be a betrayal neither could survive.
Their enemies fear a child born of such a powerful Healer and Warrior, but the true threat lies in the bond forged in shadows and fused in fire.
 Barnes and Noble                 Kindle        Amazon Paperback
book trailer on YouTube: http://youtu.be/aG2oSaUZeJM
Read my review of Ruined HERE.
About the Author: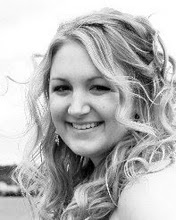 Kinley Baker is the author of the fantasy romance novel, Ruined. She read her first romance at the age of thirteen and immediately fell in love with the hero and the genre. She lives with her husband and her dog, Joker, in the Pacific Northwest. As a firm supporter of all supernatural lifestyles, she writes fantasy romance, paranormal romance, and urban fantasy.
You can find Kinley at www.kinleybaker.com
http://authorkinleybaker.blogspot.com
http://www.goodreads.com/kinleybaker
http://www.facebook.com/pages/Kinley-Baker/196649877015210