I am so pleased to welcome to the blog today — Stacey Brutger. She has a new release this week. Stacey – Congratulations! Your second book. I know you are over the moon happy to share it.
Can you tell us about The Demon Within and how you came up with the idea?
My stories usually come to me with one scene fully formed, and it's usually up to me to learn about my characters and what mess they got themselves into and how to get them out of it. For 'The Demon Within', the scene that came to me was of their first meeting. Only, the hero was a statue at the time.
Talk about a little complicated!
So Ruman was a little stiff, was he? I bet Caly loosened him right up! LOL
Looking back over all of the intimate moments you've created between characters, which scene would you most like to experience for yourself?  What makes it so alluring?
The scene that impacted me the most would be both the first scene and the last. If I had to choose, I would go with their first meeting. She was a demon hunter, and she literally falls at the feet of a guardian statues. He's forbidden, a demon that she would have to kill if he were real, but she can't help but be attracted to him.
And what makes it so alluring is when they really meet for the first time when he turned human.
That does sound exciting. Something I'd love to read.
Introvert or extrovert? How does that affect your writing?
I'm an extreme introvert. Okay, not quite a hermit, but I no problem spending time alone. I do think it affects my work, giving me a different perspective and insight that other people might not get. It can also hamper me as well. I'm never going to be able to write a bubbling and perky story, and I'm fine with that. Each writer has their own strengths and books they're drawn to read and write.
Which genres do you write in and why?
I write both urban fantasy and paranormal romance. I love the lure of the unknown and all the possibilities. The only limits you have are the limits you place on yourself and your characters.
What are you currently working on?
I'm working on three projects right now. I have the second book in the PeaceKeeper Series done. I'm working on editing.
I'm also half-done with my next Raven's Investigations Novel, which is an urban fantasy. I can't wait to find out how this story ends and if she finally decides on a love interest!
I'm also working on a new stand-alone book that deals with shape shifters, vampires and a magic user who binds them all together.
Those sound very intriguing! Looking forward to hearing more.
Do you have any writing quirks?
I can't plot worth a darn. I tried it once, but as soon as I wrote the ending, there was no incentive for me to finish the actual novel. Now, I usually plot a chapter or two ahead of time, just a few sentences of what I want to happen in that chapter.
Another quirk is I can't edit the book while I'm writing the book. It stops me cold. I can go back and add notes, but anything more and my forward momentum stops.
What gets you into the mood to write?
Music. I can listen to all types of music. The only criterion is that it has to move me. As soon as I hear the first few notes of a good song, my mind can easily drop into another world where my characters live and struggle to survive.
Favorite snack or drink while you write?
This is tricky. I try to avoid eating and drinking while writing. I'm not really aware of my surroundings. I'll either over-eat and not notice the problem until I hurt myself or forget about it completely and have to toss it out.  When I finish a writing session, I'm usually hungry and dying of thirst. lol
The only safe medium is if I put out only a limited amount. Leave me an open bag of chips, and I'm in trouble. *groan*
I hear you, sister. An open bag of anything is bad with a Capital B.
Any words of advice to aspiring authors?
Three pieces of advice:
Read. Read everything and anything you can get your hands on and not just in your genre.
Write. This is a muscle, don't use it and it's harder to get back.
Don't rush. Rushing is the worst thing you can do to your career. It takes time to learn your craft. Skip this step and you can hurt your career. If you want your writing to be the best it can be, invest in yourself.
That's awesome advice!
What are you currently reading?
I recently came to the realization that I have basically stopped reading books. This revelation shocked me! So I've made a promise to myself to read at least one book a week. I started this week and I met my first goal. Yay!
Now, you wouldn't think this would be a hard promise to keep. I mean, I used to read anywhere from 1-3 books a day. I would buy books by the fistful and then scurry them away in my tbr pile. And yes, I can hide a few hundred books in my stacks and my husband would never be the wiser. I've slowed my buying habits, but much too late to save my bookroom. lol
Now, it's time that I fight back and start reading them. I've been posting a head-to-head book reading post on my blog every Sunday. I just hope the book room doesn't collapse under all the weight in the meantime. J
And finally, is there anything you would like to share?
Thank you for having me on your blog today. I hope everyone will help celebrate my new release The Demon Within.
I have to say it again….I love your banner. It speaks to my imagination.
Thank you so much. I have to say I love it too! In my mind the man with the sword is Avant. My first and favorite hero. My graphic designer did an amazing job. She's very good.
The Demon Within
As a punishment for failing his duty as an angel, Ruman finds himself encased in stone in the form of a guardian statue. Every few decades he is given a chance to repent. And fails. Until the totally unsuitable Caly Sawyer accidentally brings him back to life. Nothing is going to prevent him from gaining his freedom, especially some willfully stubborn human determined to kill him.
Caly doesn't trust the mysterious stranger who came out of nowhere and risked his life for hers. As a demon hunter, she knows there is something not quite human about the sexy bastard. Her ability to detect demons is infallible. She should know. She used to be one.
War is brewing between demons and humans. The demon infection that Caly had always considered a curse might just be the key to their survival…if Ruman can keep her alive long enough. Despite the volatile attraction between her and her sexy protector, Caly's determined to do whatever it takes to keep everyone alive. The more Ruman learns about his beautiful charge, the more he questions his duty and loyalty…and dreads the call to return home. If they can't learn to trust each other in time, one of them will die.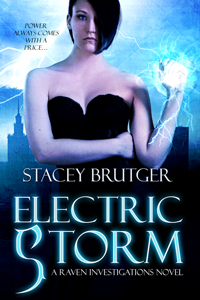 Electric Storm:
Amazon: http://tinyurl.com/7sktck6
B&N : http://tinyurl.com/cb8tee2
Stacey Brutger lives in the wilderness of Minnesota with her loving husband, along with two cats and a dog that can't be convinced he's not human (or that the treadmill was created for humans). When she's not in front of her computer, she's either reading one of her thousands of books in her towering TBR (to be read) stacks (and yes, I mean STACKS) or watching a crime show or awful sci-fi/horror movie.
You can find her at her blog: www.StaceyBrutger.com/blog or
Goodreads: http://www.goodreads.com/author/show/5808420.Stacey_Brutger